Our Programs
CHOICE is dedicated to ensuring that individuals and communities throughout the greater Philadelphia area have access to accurate information and essential services concerning reproductive, sexual and family health.  We operate five free and confidential hotlines, staffed by trained professionals, offering individualized support, referrals, and short-term counseling, as well as community education, training, and outreach programs to raise public awareness and increase knowledge around reproductive and sexual health issues.  CHOICE maintains a unique database of over 714 agencies operating 1,027 sites/programs throughout the Pennsylvania region, and regularly communicates with our referral network – both to ensure we are referring individuals to accessible, high quality providers and to offer our providers/partners confidential caller feedback on exemplary services and service gaps.  Our primary focus is to empower individuals to become informed health care consumers, so they can understand their full range of options and can advocate for the reproductive and sexual health care services that best meet their unique individual needs.
CHOICE's Other Services
In addition to our hotlines, text messaging, education, and outreach, CHOICE partners with other agencies and community based organizations to provide the following.
In partnership with
Family Planning Council of Southeastern PA
, CHOICE offers several programs and services that are designed to assist agencies with their quality improvement initiatives. These services include:
CHOICE is widely recognized as a resource in both providing and ensuring quality services. A core component of our work in this area involves monitoring our consumers' experiences with the health care providers in our referral network. CHOICE hotline counselors are thoroughly trained to both navigate the health care system and to build a rapport with each individual caller. Counselors are thus able to conscientiously identify, solicit, and objectively document consumer feedback – both positive and negative. This process allows CHOICE to offer health care providers in our referral network with anonymous feedback that they otherwise would not receive, allowing providers to quickly address any specific issues that arise. CHOICE consumer feedback also serves as an important mechanism for identifying and addressing broader trends and perceptions of service quality, availability, and access.
CHOICE can act as an impartial "mystery shopper" for agencies who are concerned about their own standards of care. CHOICE, in conjunction with an agency, works to develop "Mystery Shopper" scenarios that our staff uses to place calls to agencies, which will help them in identifying successes and gaps in their services. CHOICE provides a detailed script and call narrative of each call, a comparative outcome grid, and a synopsis and evaluation of the general trends that were identified as a result of the calls.
To ensure that consumers have timely access to care, CHOICE can also conducts service access calls to determine the availability and wait time for appointments at agencies within our referral network. CHOICE conducts quarterly calls to providers to ensure consumers' wait times for appointments and treatments fall within reasonable timeframes, and providers experiencing high volume or excessive wait times are encouraged to provide consumers with the CHOICE hotline number so they can receive alternative referrals. This process benefits both consumers and providers, ensuring that our callers more quickly access care, and that providers facing particularly high demand for their services can offer their consumers reliable alternatives.

CHOICE assists social service agencies, city agencies, and other partners respond to and track inquiries associated with various public awareness and outreach campaigns focused on reproductive and sexual health care. CHOICE is able to ensure that caller inquiries remain anonymous and are handled by experienced, specially-trained counselors. We are also able to track a range of call data including source (i.e., internet, radio, or billboard advertisements), caller demographics (such as age, race, zip code), and call time, duration, and volume.
Health Resource Centers (HRC)
Under the direction of the Family Planning Council, CHOICE is currently operating two Health Resource Centers in Philadelphia public schools. Our first HRC, located at Roxborough High School opened in the 2011-2012 school year, and in 2012-2013, CHOICE began operating its second HRC at Benjamin Franklin High School. Health Resource Centers provide students with the knowledge and skills that they need to make responsible choices about their reproductive/sexual health and relationships. The goals of the HRC are: (1) provide education and counseling that encourage critical thinking around sexual activity; (2) promote and help build positive and healthy attitudes towards safer sex and consistent condom use; (3) reduce the rates of unintended pregnancies; (4) reduce the rates and STD and HIV infections; and (5) referrals for all reproductive/sexual healthcare. Located in a designated classroom within each school, the HRC is staffed by a CHOICE counselor with specialized training in sexual health, community education, and working with adolescents.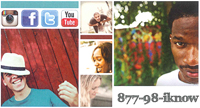 'iknow' (877-98-IKNOW)
In 2012, CHOICE began partnering with The Children's Hospital of Philadelphia on its citywide "iknow" campaign. The 'iknow' campaign is a public health and community relations initiative to encourage youth in the Philadelphia area to get tested for sexually transmitted infections. CHOICE is managing the "iknow" (877-98-IKNOW) Hotline so that callers can receive accurate information and education regarding reproductive and sexual health, including HIV and testing options. The hotline number will be marketed on social media including: Facebook; Twitter; Instagram; and Pinsterest.
As part of its commitment to ensuring a full range of reproductive and sexual health care options and services to all individuals regardless of economic status, gender, age, race, religion, culture, or sexual orientation, CHOICE participates in select advocacy campaigns and broad-based coalitions. Recent advocacy work has included:
CHOICE is a member of Pennsylvanians for CHOICE (PFC), a statewide coalition of pro-choice organizations who work to protect and enhance reproductive health care.  PFC fights for universal access to high-quality, comprehensive reproductive health services; nurtures respect and support for women's decisions about themselves and their families; and educates, organizes and mobilizes a statewide pro-choice constituency.  During the time CHOICE has been a member of PFC, we have worked alongside other members in lobbying against the Pennsylvania Abortion Control Act and working to prevent recent anti-abortion legislation.
The Philadelphia Anti-Trafficking Coalition (PATC) is dedicated to combating the issue of human trafficking in the Philadelphia area. The coalition aims to create a network of agencies to assist victims of human trafficking, coordinate an appropriate response to victims, and make available a wide range of services.  CHOICE recently participated with PATC to encourage Philadelphia City Council Members to pass a resolution calling on the Pennsylvania Legislature to pass the National Human Trafficking Resource Center Hotline Act (SB 338).  The work of the coalition was successful after Philadelphia city council voted in favor of resolution.
Through its participation in the Southeastern Pennsylvania chapter of Raising Women's Voices (RWV), CHOICE works on an issue central to our organization's mission:  helping ensure that a full range of women's health services are covered by the Affordable Care Act, both as it was passed and as it is being implemented in the state of PA.  Working as part of this alliance on the particular issue of insurance coverage allows CHOICE's staff a variety of opportunities to step outside their roles as counselor/educators to participate in reproductive rights advocacy efforts at the state level.  As a member of RWV, for example, CHOICE joined in demonstrations in front of City Hall in January to honor Roe v. Wade's anniversary.  CHOICE staff responded to dozens of legislative action alerts generated by RWV and have attended countless RWV meetings and trainings, all of which have enabled them to bring a greater understanding of healthcare reform to their daily discussions with Philadelphians about sexual and reproductive health.
CHOICE Cares
Hannah, a CHOICE hotline counselor, received a call at 7 pm on Tuesday on the State HIV/AIDS Factline. The caller, from Pittsburgh, had just been released from prison – where he had been diagnosed with HIV and was receiving treatment. Now that he was out, he had a few numbers to call for services but had been unable to get through to any of them. Hannah listened to his concerns, let him know the exact steps he would need to take to receive care, and told him to call back if he had any difficulty reaching providers the next day. He expressed gratitude not just for the detailed information, but for the time that Hannah spent with him. He mentioned that it was "just nice to talk to someone," and that she was the first person who really seemed to care.
What People are Saying
You were very patient— you took time to answer all of my questions. You really broke it down for me.
It's never an easy feat to strike just the right notes when discussing these kinds of subjects with early adolescents. Your presentation made it look easy.

Student Services Specialist

, CEP Hunting Park
I didn't even know what I was going to get when I called this number, but I was very satisfied.
I learned to be safe if I decided to have sex. Also, how to have respect for myself.

Student

, Philadelphia Middle School