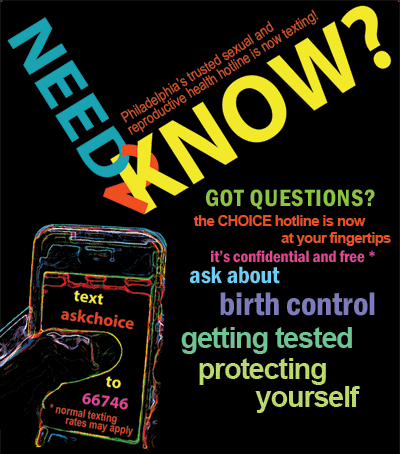 Need2Know
People, especially young people, recognize their need for accurate sexual health information and want it to come from reliable sources they trust. CHOICE's "Need2Know" text messaging program offers confidential, medically accurate answers to hard-to-ask questions. In addition to answering questions, CHOICE provides referrals to a health care provider if needed. In some cases, CHOICE will suggest "texters" call and speak with a Hotline counselor directly for more detailed counseling, education, and/or referrals.
To use Need2Know:
 Text askchoice to 66746 to opt-in to the service. You only need to opt in the first time you use the service.
Text your question to 66746.
You will receive your answer shortly during regular CHOICE hours (Mon-Thurs: 8:30am – 7:30pm; Fri 8:30am – 5:00pm; Sat 9:00am – 1:00pm; questions sent when CHOICE is closed will be answered as soon as possible the next day we are open).
Text message & data rates may apply. To opt out, Text STOP to 66746. Text HELP to 66746 for help using the system. Privacy Policy/Terms and Conditions. All CHOICE services are confidential, and we will only break confidentiality if a user indicates they are in danger of imminent harm.
How Can Need2Know Help?
CHOICE can answer a wide array of questions via text. In some cases, we will suggest that you call and speak with a Hotline counselor to get more detailed information. Common topics include:
Birth Control and Pregnancy.  Examples:  Do my parents have to know if I want to start birth control? Where can I get prenatal care if I don't have insurance?  I missed 2 birth control pills in a row—what should I do? I just found out I'm pregnant—where do I go from here?
Sex and Sexually Transmitted Infections. Examples: The condom broke last night – what do I do? Does pulling out work? How can you tell if you have HIV? Where's the nearest place to get tested? What is HPV?
Bodies. Examples: Why do I keep getting yeast infections? Is discharge normal? It stings when I pee – what's wrong?
Please note:
CHOICE does not provide medical advice or diagnose medical issues like HIV, STDs, and/or pregnancy, but we will provide a referral to a health care provider for diagnosis and care.
All CHOICE services are confidential and we will only break confidentiality if a user indicates they are in danger of imminent harm.
Click here to read our press release about the Need2Know Text Messaging Program.
The following video gives an overview, from the perspective of CHOICE staff, on our decision to add text-messaging as an alternative means of reaching the CHOICE hotline and obtaining critical reproductive and sexual health information. The video was produced as part of our successful application for the "Apps for Change" grant program of the Motorola Mobility Foundation, which supported the development and implementation of the Need2Know text-messaging program.